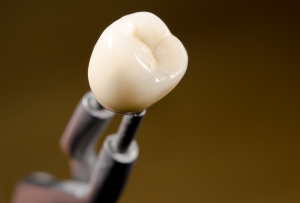 Do you have a decayed or damaged tooth? Maybe you have one that is at risk for breaking or has an unusual shape? No matter the reason, your dentist may have recommended that you get dental crowns in Fort Lauderdale. If so, you have nothing to fear. Using a simple and effective procedure, you can restore the health, function, and appearance of your tooth using an option that looks natural.

What is a Dental Crown?
A dental crown is a custom-made cap that is placed over a tooth to restore its health, provide an added layer of protection, or to improve its appearance. Using impressions of your mouth, it is made to match your exact size, shape, and color needs to blend in seamlessly with your remaining natural teeth.
Do I Need a Dental Crown?
A dental crown is quite versatile, allowing it to be used by your dentist in Fort Lauderdale to treat an array of issues. It is often used in preventive dentistry to prevent a weakened tooth from fracturing, such as for those who suffer from Bruxism.
They are commonly used in restorative dentistry to treat a tooth that needs a large filling but does not have enough of its natural structure remaining. In addition, it can be used to repair a cracked or broken tooth, saving it from needing to be extracted. A dental crown is often combined with other procedures as well, such as root canals, dental bridges, or dental implants.
In some cases, it can even be used in cosmetic dentistry. By placing the cap over a tooth, it can hide dark tooth discoloration or improve its shape.
How Do I Get a Crown?
After an initial consultation, a customized treatment plan will be created. During your first appointment, your tooth will be prepared. This may involve removing the pulp or any areas of decay or damage. The enamel will be reshaped to allow the crown to be placed securely over the tooth. To ensure that it meets your exact size and shape needs, impressions are taken. The dental lab will use this information to create a restoration that meets your exact needs. It can even be made to match your enamel color.
While you wait for the dental lab to be finished with your crown, a temporary one will be attached. In about two weeks, you will return to your dental office to have the permanent one bonded in place. With the right aftercare, your crown can last for about 10 years before needing to be replaced.
Invest in Your Smile
Dental crowns allow you to make a true investment in your oral health and confidence. Benefit from a high-quality restoration today!
About Dr. Robert L. Smith
Dr. Robert L. Smith is a leader for high-quality dental care in the community. He offers personalized solutions to help you achieve a healthy, beautiful smile. If you need a dental crown, benefit from the best. Contact Island City Dental today to schedule your consultation.