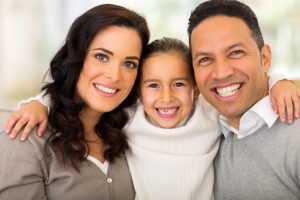 Dr. Robert Smith and Dr. Lori Albe welcome you to our premiere Ft. Lauderdale practice! We offer exceptional dental care to patients of all ages in a warm and friendly atmosphere. Our office is equipped with state-of-the-art technology because we want to offer our patients treatment that is comfortable and efficient. Here are just a few of the advanced services you can expect to find at your Ft. Lauderdale dentist.
Laser Periodontics
Periodontal (gum) disease affects more than 80% of American adults in some form. This sneaky disease progresses gradually with little pain at first and this is why many patients are not even aware that they have it. If left untreated however, gum disease will lead to severe damage to your oral health, including tooth and bone loss.
For patients with advanced gum disease, a deeper cleaning to remove plaque and tartar from below the gum line is required. We also use laser therapy at our practice to help clean out the infection left by gum disease. Utilizing the heat and light from the laser ensures a more precise and accurate treatment, without affecting other healthy areas. It also keeps the sight sterile, which promotes quicker healing.
Invisalign
For adults, living with teeth that are crooked or misaligned can greatly affect their confidence. A beautiful smile says a lot about you and can often take you to the next level in your career and personal relationships. Many professional adults are put off by the idea of wearing bulky metal braces to straighten their teeth, and so we're proud to offer Invisalign treatment.
Invisalign utilizes clear plastic aligners that apply gentle pressure to gradually straighten your teeth. Because they're clear and fit snugly, Invisalign aligners are virtually invisible and won't interfere with your normal daily activities. Aligners can also be removed for brushing and eating, so there are no changes to your diet or your home care routine. Most Invisalign cases can be completed in 12-18 months, so they're ideal for busy adults.
Sedation Dentistry
We understand that not every patient feels comfortable going to the dentist, and for this reason we offer options for dental sedation to help you feel at ease so you're able to get the dental care you need and deserve. Nitrous oxide, or laughing gas will help you relax and take the edge off, while still allowing you to participate in your normal activities after your procedure.
Oral sedation is administered through a pill prescribed to you and taken approximately one hour prior to your appointment. While you are still conscious and responsive during your treatment, you'll feel relaxed and even sleepy and you'll have little to no memory of your dental procedure.
These are only a few of the services we offer and we invite you to call our office to schedule your next appointment and learn more about our practice, and how we can help you.