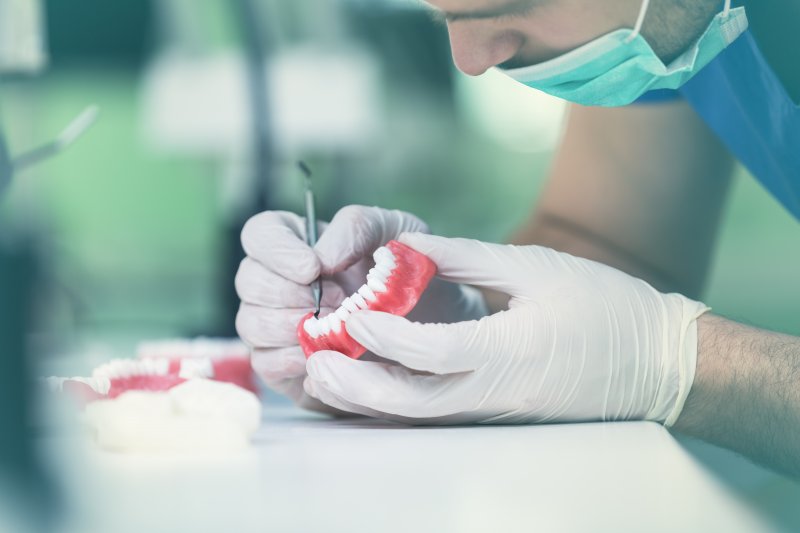 If you're familiar with dentistry, you may know that there are many different specialties within the field, all of which focus on different areas of the mouth. The term "prosthodontics" is the area of dentistry focused on dental prostheses. The terms "prothesis" commonly refers to dentures, but that doesn't mean prosthodontists exclusively provide dentures to patients. In fact, their expertise is a great asset for anyone who cares about maintaining good long-term oral health. To learn why, keep reading!
Prosthodontists are Experts in Restorations
One of the most notable distinctions between prosthodontists and general dentists is the amount of time they spend learning how to reconstruct and replace damaged and missing teeth. Whether you need to cover a tooth with a customized crown or replace teeth entirely with a bridge, denture, or dental implant, they would be the best specialist to see. When you want your teeth to both remain functional and look as natural as possible, a prosthodontist will make sure that both of these needs are met the first time.
Furthermore, prosthodontists are the ideal candidate for care when you need more extensive treatments completed, such as full mouth reconstructions. Not only will they make sure that you understand all the restorations you need to revitalize your smile, but they'll ensure that all the restorations placed keep your bite aligned. This is where having an extensive education in your bite and jaw comes into play.
They Treat More Than Just Damaged Teeth
Prosthodontists focus on restorations quite a lot, but this is because they have a much more nuanced understanding of the moving parts of the mouth, such as the jaw. They also resolve issues that can occur as a result of missing teeth.
As it turns out, there are many ailments that a prosthodontist can help you address, including:
Cleft palate
Snoring disorders
Sleep apnea
Oral injuries
TMJ disorder
In order to confidently treat these conditions, dentists must undergo the right education following their initial four years of dental school.
Extensive Education Required for Prosthodontics
While prosthodontists go through the same four years of dental education like general dentists do, they also need to complete an additional three years of learning at an ADA-accredited school that focuses on prosthodontics. Not only do they learn far more about restorations than general dentists, but they work directly with researchers and clinical experts from numerous medical disciplines. This provides them with a wider range of diagnostic insight.
In plain terms, your treatments are far more personalized, ensuring better outcomes when you need to restore/reconstruct damaged/missing teeth or address problems that appear as a result of tooth loss, jaw injury or simply having a misaligned bite. In many cases, general dentists will refer patients to prosthodontists for these reasons.
Whether you're missing teeth, need to improve your sleep, or address jaw pain as a result of an oral injury or due to untreated teeth grinding and clenching, prosthodontists offer a level of expertise you are unlikely to fine with a general dentist. On top of that, their knowledge of dental materials, especially ceramics, makes them the perfect dental expert when you need to replace missing teeth or restore broken-down enamel to its fullest function.
About Island City Dental
No matter what your dental needs are, Dr. Hasan Yap and Dr. Robert Smith have the education, training and expertise to bring your smile back to life through prosthodontics. Whether you have to address damaged enamel or replace missing teeth, you can put your trust in their professional hands. To schedule a consultation, you can contact them through their website.