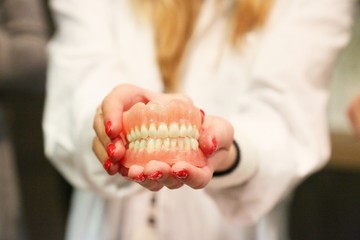 If you're contemplating the idea of having your dentures relined, it's essential to understand what the process entails. Denture relining is a procedure that aims to enhance the fit and comfort of your dentures. During the process, a dental professional will carefully reshape the inner surface of your dentures to better match the contours of your gums and oral tissues. This adjustment helps to improve the stability and functionality of your dentures, allowing for a more secure and comfortable fit. Continue reading to learn more about how denture relining works.
Hard Denture Relining
Hard denture relining is a procedure performed to improve the fit and functionality of dentures. It involves adding a new layer of acrylic material to the part of the dentures that touches your mouth tissue. This kind of relining is a cost-effective way to extend the lifespan of dentures and restore their optimal functionality.
Your dentist first takes an impression of your mouth to create a mold. This mold is then used to fabricate a new acrylic layer that precisely fits the contours of the mouth. The denture is adjusted and polished to ensure a comfortable fit and proper alignment.
Soft Denture Relining
Soft denture relining involves placing a soft, pliable material as a cushioning layer between the denture base and the oral tissues. It's particularly beneficial for individuals with sensitive gums or bony ridges. This material is typically a silicone-based substance that provides a gentle and flexible surface for the denture to rest on.
Your dentist takes an impression of the mouth to create a mold, and the soft relining material is custom-fitted onto the denture base. The result is a denture that conforms more closely to the contours of the mouth, reducing irritation and sore spots.
Temporary Denture Relining
Temporary denture relining is a short-term solution to improve the fit and comfort of dentures. It is typically performed when the gums and oral tissues undergo significant changes, causing the dentures to become loose or ill-fitting.
Temporary relining involves applying a soft, pliable material to the tissue surface of the denture to create a better fit and act as a cushion between the denture and the gums. This provides temporary relief from discomfort and improves stability. Temporary relining is often used when the underlying bone and gum tissues are expected to continue changing, such as after tooth extractions or oral surgery.
Temporary relining serves as a temporary fix until a more permanent solution can be implemented. While temporary denture relining can provide immediate relief, it may require regular adjustments or replacements as the oral tissues continue to heal and change shape. Be sure to consult with a dental professional who can assess your situation and guide help you determine the best treatment plan.
About the Practice
Located in Wilton Manors, Island City Dental provides exceptional, effective, and efficient dental services to patients in the surrounding communities. Their skilled team specializes in tooth replacement options, including denture relining to ensure an enhanced fit and comfort for your restorations. They also offer valuable guidance on caring for your newly relined dentures. To learn more about dentures or to set up an appointment with Dr. Hasan Yap or Dr. Robert Smith, contact Island City Dental's office at (954) 564-7121 or visit their website.