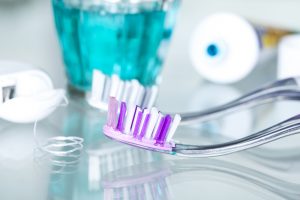 Your toothbrush may look just fine to the untrained eye, but the truth is after a period of time there are many reasons why you need to change out your toothbrush. You may think you're practicing great oral hygiene habits at home, but what good is that doing your smile if your toothbrush is harboring dangerous bacteria? Your dentist in Fort Lauderdale wants you to know why it's important to replace your toothbrush every few months.
Why should I replace my toothbrush?
Even if your toothbrush seems to look and work as it's supposed to, after 3 or 4 months, the fibers start to wear down and hold onto harmful dental bacteria. Your toothbrush will be much less effective at removing plaque from your teeth when it's accompanied by harmful debris. An old toothbrush is still better than no toothbrush, but not by too much.
Remember, overall health is closely associated with dental health, so it's worth the little time and effort to take care and replace your toothbrush.
How often should I replace my toothbrush?
If you're brushing your teeth thoroughly twice a day for at least two minutes, you should be replacing your toothbrush every 3 or 4 months. Sometimes some patients need to replace them sooner. If you tend to brush more vigorously, it may need to be replaced earlier than every 3 months. When in doubt, take a glance at the bristles. Are they frayed or pointing in every which direction instead of smooth and standing straight up? If so, it's time to get a new toothbrush.
Keep in mind that you may also want to replace your toothbrush if you've recently been sick, since the associated bacteria and viruses could potentially get you sick all over again. Your Fort Lauderdale dentist thinks it's a good idea to stock up on a few toothbrushes for each member of your house. This way, you'll always be prepared to switch your family's toothbrush out if you need to.
How should I be caring for my toothbrush?
You can make the most out of your toothbrush when you take care of it properly.  The office of Robert L. Smith, DDS and Lori Albe, DMD recommend that you follow these tips:
Store your toothbrushes so they don't touch each other and spread dental bacteria and/or viruses.
Store your toothbrush in an open space rather than a closed cabinent or in a case. This will reduce the chances of germs spreading in dark, damp places.
When you're finished using your toothbrush, let it dry out between uses to prevent dental bacteria and build-up of harmful materials.
Get the Best Brushing Advice from Your Fort Lauderdale Dentist
Dental on Central has the knowledge and experience to help you achieve your optimal oral health. We look forward to helping you keep your teeth and gums healthy and clean both in our office and at home. Contact us to schedule your next appointment and speak with our dental professionals.