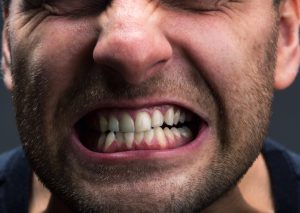 Many people grind their teeth when they're stressed — but if you feel like you're constantly stretched to your limits, teeth grinding can become a chronic issue. Misaligned teeth also frequently cause unconscious teeth grinding. It may seem harmless, but the habit, which we also call bruxism, is especially damaging when it happens at night while you're asleep. Fortunately, Dr. Robert L. Smith and Dr. Lori Albe can help prevent the significant effects of teeth grinding and bruxism in Ft. Lauderdale with custom-fitted nightguards.
Why Bruxism Is a Problem
Your teeth are strong, but under constant pressure from teeth grinding and jaw clenching, something's gotta give eventually. People who grind their teeth at night are likely to experience significant wear and tear on their tooth enamel, which also places them at a higher risk for developing tooth decay or losing some of their teeth altogether. Bruxism is also associated with chronic headaches or earaches, facial pain, ear pain, and pain in the TMJ/jaw. Some people experience tingling extremities related to their teeth grinding and jaw clenching.
Treatment for Teeth Grinding
A nightguard that is fitted to the specific dimensions of your smile is easy to use, fits comfortably, and works to protect your delicate tooth enamel from the repeated impact caused by nighttime teeth grinding.
This treatment method doesn't just work to protect your teeth from grinding and clenching — it also treats the problem itself. When teeth grinding is caused by a misaligned bite, splint therapy can bring the jaw into proper position to prevent nighttime clenching and grinding. We have a variety of treatments available and may try a few before finding the one that is best for you.
Natural Approaches to Teeth Grinding
In addition to professional treatment with a nightguard or oral appliance, we may suggest alternate techniques or lifestyle changes if your teeth grinding is caused by chronic stress. Starting talk therapy, taking up vigorous exercise, reevaluating your diet, and getting more and better sleep can all help to reduce teeth grinding and jaw clenching.
It can also help to take note of when you are likely to clench your jaw or grind your teeth during the day. Like now — is your jaw tense? If so, relax it. Being more aware of your jaw can help you break the habit during the day, in turn reducing its occurrence at night while you are asleep. Trying certain facial stretches or exercises can also help reduce discomfort related to nighttime jaw clenching.
Questions? Get In Touch With Us Today!
Think you could benefit from a nightguard in Ft. Lauderdale? If you grind your teeth or clench your jaw, your oral health is at risk — find out how we treat it today! We invite you to contact us to schedule an appointment for teeth grinding treatment.