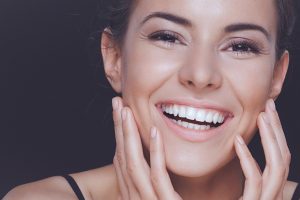 A person's appearance can inspire generations and start new movements in fashion and style. It's true that trends do change, but there's one consistent standard of beauty that everyone strives for: a straight, bright, beautiful smile. It's timeless!
Not only is the perfect smile noticed by everyone around you, but it's the perfect complement to any outfit or a new hairstyle. These things boost your confidence and help you conquer your goals like no other! If you're ready to start crossing off your goals before the new year begins, getting a smile makeover may be the best decision you can make!
What is a smile makeover?
A smile makeover is when your dental team can combine both cosmetic and restorative services to help you attain the smile of your dreams.
If you're interested in pursuing a smile makeover, your dentist will discuss your smile goals and develop a personalized plan that's catered to your lifestyle and budget.
Your smile makeover plan may include various services depending on what you would like to improve about your smile. After assessing the condition of your mouth, taking measurements and impressions, and talking about your goals with you, you will be presented with the best options for your smile makeover.
How do you get started?
The best way to begin your journey to a better smile is to meet with your dentist for an open-minded, judgment-free consultation. This way, you can show your dentist your teeth, explain what makes you the most insecure, and develop your custom plan. Plus, you'll have the opportunity to build a friendly relationship with your dentist, opening the lines of communication so that you can get the most out of your smile makeover experience.
First, your smile must be strong and healthy.
For a smile to be attractive, your smile must be healthy. Your dentist can suggest these restorative services for you:
Tooth-colored fillings for cavities
Dental implants to replace missing teeth
Extractions for damaged teeth
Full and partial dentures to replace teeth
Crown and bridgework for a variety of reasons
Porcelain crowns to provide newfound stability
Secondly, your dentist will improve your smile's appearance.
Depending on your aesthetic goals and current smile's appearance, your dentist will use recommend a variety of cosmetic services:
Porcelain veneers to mask your most unwanted flaws
Direct bonding to fill chips, cracks, or make teeth appear longer
Metal-free restorations to eliminate attention-grabbing dark spots in your smile
You can easily be on the right track to a better smile by reaching out your dentist for a smile makeover consultation.
---
About Our Office
As your general and cosmetic dentists, Dr. Smith, Dr. Yap, and Dr. Albe can combine services to provide amazing results for all our patients. All you need to do is ask! Feel free to schedule your next appointment to discuss your dream smile today.