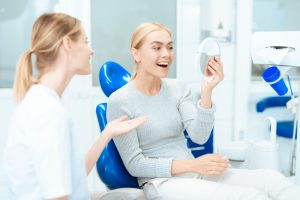 Over the past few decades, cosmetic dentistry has exponentially grown in popularity. What has been the driving force behind the increased interest in this form of dentistry? As you continue reading, a local cosmetic dentist explains why more and more people are taking steps to improve their smile!
How Things Used to be
In the early part of the 20th century, cosmetic dentistry was primarily reserved for Hollywood stars and the more affluent of society. This was especially the case with porcelain veneers, which were used to provide a quick solution for actors who needed to achieve the perfect smile for a role.
Needless to say, a lot has changed since those days. Now, the average cosmetic dental patient spends around $5,000 to achieve the smile of their dreams.
Why Patients are Choosing Cosmetic Dentistry
Here are some of the primary reasons for the growing interest in cosmetic dentistry:
More Disposable Income
Studies show that people have more disposable income than ever before. As the value of having a nice smile continues to increase, more people are choosing to direct a portion of their extra money to aesthetic dentistry. In fact, there has even been an increase in dental tourism, which provides a vacation and cosmetic dental experience all in one.
The Power of the Smile
In a survey conducted by the American Academy of Cosmetic Dentistry (AACD), around 74% of the respondents said that an unattractive smile can reduce the chances of landing a desirable job or making career advancements. For them, a smile improvement is somewhat of a business investment.
Increased Tooth Retention
Statistics show that Americans are living longer than ever before, and they're retaining more of their teeth. Many patients desire to maintain a youthful-looking and attractive smile. As a result, they are turning to cosmetic dentistry as a means of revamping their image.
A Desire for the Best Results
Just as cosmetic dental procedures are on the rise, so is the availability of over-the-counter cosmetic dental products. Still, many patients recognize that receiving professional care is the most effective means of improving their smile. Thus, they are choosing to take the professional route to get the best results possible.
Some of the Options Available to You
As mentioned earlier, cosmetic dentistry is no longer just exclusive to Hollywood. Here are some of the services now available to the general public:
Porcelain veneers – Thin porcelain shells that fit directly over the front-facing teeth to mask minor gaps, crookedness, chips and stains
Metal-free restorations – Dental porcelain that replaces the typical metal fillings, creating a natural-looking restoration
Cosmetic bonding – Compound resin material that is applied directly to the front teeth to address minor gaps, cracks, chips or stains
Teeth whitening – Uses high-powered whitening gels to lift stubborn stains and brighten teeth by as much as eight shades
Invisalign – Low-profile, clear-plastic trays that serve as a discreet alternative to wearing traditional braces
Gum recontouring ­– With the aid of laser technology, provides a way to achieve a more symmetrical smile by removing excess gum tissue
To determine what will be the best solution for your smile upgrade, reach out to a local cosmetic dentist to schedule a visit. After your image is revamped, you'll be smiling from ear to ear!
About the Author
Dr. Hasan Yap earned his dental degree from the Universidad de Panama. He would later go on to serve as Chief Resident at NOVA Southeastern University, where he focused on cosmetic dentistry and several other treatment areas. Dr. Yap helps his patients enjoy smile bliss by providing top-notch cosmetic dental care at Island City Dental, and he can be reached for more information through his website.