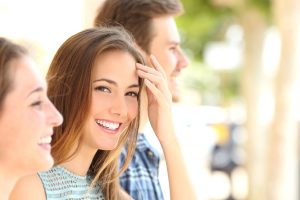 Your latest dental check-up was great, but you would like your smile to look better. Wear and tear have created some dark stains and chips, and there's a gap right in the front of your mouth which is so embarrassing. What can you do? Investigate porcelain veneers at the Fort Lauderdale offices of Dr. Robert L. Smith and Dr. Lori Albe.
Veneers in Fort Lauderdale Refurbish Teeth
Drs. Smith and Albe and their professional team enjoy remaking smile aesthetics. They offer many state of the art cosmetic services for patients desiring brighter smiles or who want a complete smile makeover.
One of the more popular cosmetic dental services is porcelain veneers, or dental laminates as they are sometimes called. Either alone or combined composite resin bonding or other services, porcelain veneers add beauty and durability to teeth spoiled by:
stains from black tea,cola, coffee, red wine, smoking, medications, age or darkly colored foods
Chips and hairline fractures
odd configuration or uneven length
root canal therapy
oral injury
Crowding and overlapping
Congenital defect
Custom-fabricated in a trusted dental lab here in the United States, these thin, translucent shells of dental ceramic bond permanently to the front of one or more healthy teeth. The effect is dramatic, yet natural-looking.
How the Veneer Process Goes
Dr. Smith or Albe performs a comprehensive oral exam to determine health of teeth and gums. The dentist takes digital X-rays, photos, other modern imaging and oral impressions. With this information, the doctor formulates instructions to send to thel lab where a ceramist constructs a three-dimensional model of the patient's mouth. He or she sculpts each laminate so its color and shape compliments the person's facial shape, smile symmetry, hair color, skin tone and other aesthetic elements.
Also, the dentist prepares the teeth by  removing a very thin slice of tooth enamel (½ mm) from the front side of each tooth receiving a veneer. This allows adequate space for the laminates to function well within the mouth, without any oral irritation, speech problems or issues with eating.
After the lab fabricates the laminates, the dentist cements them to the prepared tooth surfaces with a special bonding adhesive. He or she adjusts the color of the veneers in Fort Lauderdale by varying the shade of the cement, achieving a natural-looking match to neighboring teeth. The dentist adjusts the size, shape and bite for an excellent fit.
Caring for Your Porcelain Veneers
As with any teeth, patients with veneers must  brush them twice daily with a soft brush and floss daily, too.  Patients should see Dr. Smith or Dr. Albe for follow-up and routine six-month hygienic cleanings and oral exams.
Besides beautifying teeth, porcelain veneers strengthen tooth enamel. However, patients should treat all their teeth well. That means no chewing ice, taffy or peanut brittle or opening packages or bottles with your teeth. Patients who grind their teeth should wear a night time mouth guard. With good care, porcelain veneers last for years, look great and boost self-esteem.
Learn More about Veneers
Consult with Dr. Albe or Dr. Smith at Island City Dental in Fort Lauderdale.  Discuss your cosmetic dentistry goals to remake your smile and your outlook.
Contact Island City Dental  to arrange your personal consultation.