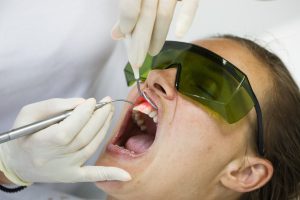 When you visit the dentist or a doctor's office, you likely see and hear a lot of acronyms thrown around like ER, TMJ, and LANAP. However, LANAP should not just be another acronym in that list. Laser periodontal treatment means people with gum disease, excessive amounts of gum tissue, or lip and tongue tie have better options to renew or improve their oral health. LANAP treatments allow patients to receive soft tissue therapies with minimal discomfort during treatment and quick healing following the procedure.

So What is LANAP?
The acronym stands for Laser Assisted New Attachment Procedure. What that means is a little more complicated. LANAP therapy allows dentists to deliver periodontal therapies like scaling and root planing or gum recontouring with minimal bleeding and discomfort during treatment and little to no healing and recovery time after treatment.
How Does LANAP Work?
LANAP uses high intensity light waves to target precise soft tissue areas. As specifically targeted parts of the soft tissue are removed, the laser light cauterizes as it cuts. This significantly reduces bleeding and pain during procedures. Additionally, this instant cauterization speeds the healing process, and most patients are back to full health within 24 hours. Most importantly, because inflammation and soft tissue lacerations are minimized, the body can get right to work on gum tissue reattachment and regrowth of the supportive, alveolar bone tissue. Dentists can use the LANAP process for numerous dental procedures including:
Deep cleaning for gum disease sufferers
Reshaping the soft tissue for patients with gummy smiles
Removing excess tissue that leads to lip or tongue tie
Benefits of LANAP Therapies
Laser periodontal treatments offer patients numerous benefits. Some of the most important advantages of LANAP therapy include:
Precision treatments that do not affect healthy tissue
Reduced bleeding and discomfort during treatment
Decrease healing time and improve reattachment of gums and regrowth of bone tissue
No need for stitches making the procedures less invasive
Procedures have a 98% success rate
Significantly minimized risk for infection following treatment
Meet the Island City Dental Team
At the Fort Lauderdale dental office of Robert L. Smith, DDS and Lori Albe, DMD, we are passionate about helping patients understand all of their dental care options. LANAP is an innovative periodontal therapy treatment that makes improving oral health safe, easy, and comfortable. If you want to find out more about LANAP or any of the advanced dentistry services provided by the skilled dentists and team at Island City Dental, call our team to find out more or schedule an appointment with us today.