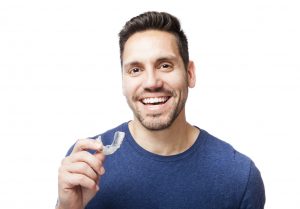 These days, it seems like even teenagers are too busy for traditional bracket and wire braces. To straighten teeth with these traditional orthodontic solutions, you'll need to make frequent trips to see an orthodontist, make changes to your diet, and spend a lot of extra time caring for your smile. If none of this sounds ideal, there may be a better option – Invisalign clear braces. This unique alignment tray orthodontic system allows patients to straighten their smiles quickly, comfortably, and without the hassle of traditional bracket and wire braces. In this post, we'll talk about some of the many ways Invisalign can make your orthodontic alignment more convenient.

What is Invisalign?
Invisalign is an orthodontic treatment that uses clear, plastic alignment trays rather than brackets and wires to shift teeth into their ideal position. Each set of alignment trays represents your smile one step closer to the desired end result. You simply wear them for about two weeks. Then, exchange them for the next set in the series. Overall treatment time is usually a year or less, and you have fewer, shorter office visits throughout your Invisalign plan.
How Long Does Treatment Take?
Every patient's Invisalign orthodontic plan is dependent upon their individual needs. In most cases, patients complete their entire treatment plan in eight to eighteen months. However, you will save even more time because you only need to visit us every six to eight weeks for checkups. Compared with lengthy, frequent bracket and wire braces adjustment appointments, these short checkup visits will save you a lot of time.
Do I Have to Give Up My Favorite Foods?
Nope. With Invisalign you can keep eating all of your favorite foods and brush and floss as usual. Simply remove your aligners during meals and while you clean your teeth. Then, snap them back in place after. Invisalign treatment truly takes all of the hassle out of orthodontics.
Meet the Island City Dental Team
The Island City Dental team offers Fort Lauderdale dentistry patients a wide range of treatment options to help them brighten, straighten, and perfect their smiles, including customized Invisalign orthodontic treatment plans. Whether you "missed out" on braces as a teen or you've seen your teeth shift back out of alignment following traditional bracket and wire orthodontic treatment, Invisalign may be an effective treatment option. Give our team a call to schedule your orthodontic consultation visit in our Fort Lauderdale dentistry practice. We look forward to seeing you soon.