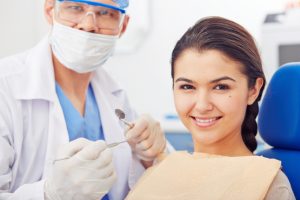 Dr. Robert L. Smith and Dr. Lori Albe, Fort Lauderdale dentists, say 6-month check-ups and  hygienic cleanings prevent dental problems and uncover small issues before they become costly and painful. Learn what's involved in the best of preventive dental care.
Go to the dentist semi-annually
It's a great idea and recommended by the American Dental Association.  While brushing twice daily and flossing daily keep teeth and gums clean, they aren't enough to ensure best oral health. Some people need less dental care than others, usually because of their great genes, but as a general rule, kids through senior adults need exams and cleanings semi-annually with their Fort Lauderdale dentist.
Cavities, gingivitis, poor bites, and undetected oral cancer damage health often before the individual has symptoms.  Your Fort Lauderdale dentist has the skill and experience to see and treat problems before they become complex and cause systemic health issues.
The National Center for Health Statistics has found that  in 2012, 91 percent of Americans between the ages of 21 and 64 had at least one cavity.  About 19 percent of people over 65 are missing all of their teeth. Could frequent dental care lower these numbers?
The answer is yes. Exams and cleanings starting at 3 and continuing throughout life findsproblems at their earliest stages. At Island City Dental, intraoral cameras and low radiation, digital x-rays facilitate treatments, and oral cancer screenings find this devastating illness while still treatable.
Why keep gums healthy?
Your gums are the soft, pink connective tissue which anchor your teeth to the jaw. Without this highly vascular tissue, teeth become very mobile and will  fall out over time.  The  supporting jawbone deteriorates, too, prematurely aging facial features.
The Centers for Disease Control estimate that one of every 2  American adults over 30 has gum disease–from mild gingivitis to serious periodontitis.  Infection and inflammation from periodontitis factors into:
Type-2 diabetes
dementia and Alzheimer's disease
stroke
heart attack
hypertension
pregnancy complications
rheumatoid arthritis
low birthweight infants
What happens during a semi-annual exam?
The process is easy as this highly experienced team puts patient concerns and comfort first.  Dr. Smith or Dr. Albe inspect for decay. The Fort Lauderdale dentist measures gum pockets between the soft tissue and the teeth.  He or she checks bite and looks at existing restorations, such as crowns, fillings, dental  implants and bridgework for signs of wear.  Oral cancer screening is included and takes just a couple of minutes.
The dentist may take digital x-rays to inspect tooth roots and underlying bone. Depending on findings, the dentist writes a complete care plan to address problems and any cosmetic goals.
Lastly, the hygienist removes sticky plaque and hard tartar from tooth surfaces, interdental spaces and the gum line. She polishes enamel to a sparkling finish.
Prevention is best
Take an active role in your oral health. Why not contact Island City Dental to arrange your 6-month cleaning and check-up?