August 31, 2017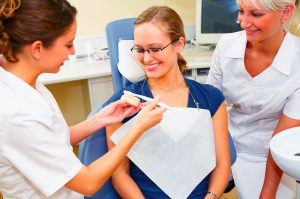 Visiting the dentist twice a year is an essential part of maintaining a whole, healthy smile for life. The American Dental Association (ADA) recommends patients of all ages visit a dentist at least two times every year. These regular maintenance appointments give dentists the opportunity to partner with their patients in preventing many major oral health concerns, and treat those non-preventable issues in the earliest stages. Whether it's been six months or six years since your last dental checkup, the Fort Lauderdale general dentist and team at Island City Dental invite you to call our office. We can't wait to help you achieve and maintain the healthiest possible smile.

The History of Dental Checkups
During the First World War, poor dental health was considered an epidemic. In fact, decayed or damaged teeth were the leading medical cause for US recruits to be turned away from the armed forces. The government called for a panel of dental experts to make recommendations for how to improve the nation's oral health. The result of their research was a recommendation that patients visit the dentist for preventive treatments twice a year. Today, we still follow this recommendation, and research conducted by the ADA and other similar organizations supports this initial recommendation.
Preventive Dentistry for a Life of Healthy Smiles
In the Victorian era, dentures were a common wedding gift. Most people lost some or all of their teeth in their 40s or 50s, so this was a practical gift. Preventive dentistry appointments at Island City Dental mean fewer of our patients will need dentures. A 2011-12 study compared edentulous populations with a similar study conducted from 1960 to 62. The percent of people over the age of 65 who have lost all or most of their teeth has decreased in this time from 49% to just 13%! Keep your regular dental checkups with the Island City Dental team, and keep your smile whole and healthy for life.
What Happens During Today's Checkups
There are four main components to every dental checkup:
Diagnostics – we capture x-rays, photos, and other diagnostic information using our state-of-the-art facilities
Assessment – we visually and manually examine your smile screening for common oral health conditions like tooth decay, gum disease, and oral cancer
Hygiene – one of our skilled hygienists will carefully remove plaque and tartar buildup from even the hardest to access parts of the smile
Consultation – you'll sit down one on one with Robert L. Smith, DDS or Lori Albe, DMD to discuss the findings of our examination and create a personalized plan for your ongoing oral health and hygiene
Comments Off

on When Should I Visit a Ft. Lauderdale General Dentist?
No Comments
No comments yet.
RSS feed for comments on this post.
Sorry, the comment form is closed at this time.