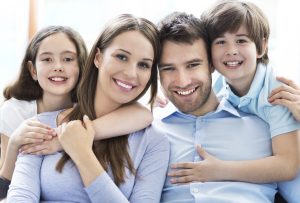 Welcome to Fort Lauderdale! That's not only a sign at our busy airport, but it's also an expression everyone here uses quite often to make new residents and tourists feel right at home. And right at home is exactly how you should feel when you walk into your dentist's office. The atmosphere should be friendly, the service top-notch and the dentistry must be on the cutting-edge of technology. You'll find all that and so much more at the practice of Fort Lauderdale dentist Dr. Robert L. Smith and Dr. Lori Albe. Read on to learn why Drs. Smith and Albe may be just right for you and your family.
Convenient and Accessible Location
Our office is located at 1700 NE 26th Street, Suite 2, in Fort Lauderdale. We're only a few minutes drive off of either Highway AIA or Interstate 95, so we are easily accessible from any point within Fort Lauderdale as well as our neighboring communities.
Everything You Need from a Dentist
Drs. Smith and Albe and their team of dental hygienists and dental assistants are pleased to offer a wide range of dental services. You'll never need to go anywhere else to take care of your smile. We begin with the basics—a preventive dental checkup that includes a thorough cleaning and examination of your entire oral cavity. From this we build a treatment plan that is designed to address the unique needs of your smile. Whether your smile requires restorative dentistry such as dental implants or dentures, or the cosmetic boost of teeth whitening or porcelain veneers, we have what you need. We can even straighten teeth with Invisalign clear braces and perform a number of oral surgery procedures including tooth extraction and root canal therapy.
Dentists Who Care
Many of Drs. Smith and Albe's patients have been coming to see them for years and years. Why? Not only because they know these dentists in Fort Lauderdale will provide quality dental care, but also because they are so likeable. Let's face it, if you're going to see your dentist at least twice each year for checkups and possibly more often, then you want to have a dentist who is personable. Moreover, Drs. Smith and Albe will take the time to listen to your concerns and build a trusting relationship that you'll enjoy.
Contact Our Office Today
Welcome to the dental practice of Drs. Smith and Albe! Please call our office today to schedule your first appointment. We look forward to helping you and your family achieve smiles that are healthy and beautiful.