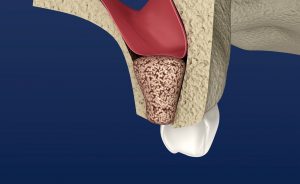 If you've lost a tooth or two, you have more options than ever to replace your missing teeth; however, dental implants are the most reliable method. A dental implant differs from any other treatment because it recreates both the root and the crown. As a result, you must have enough bone density in your jaw to be a candidate for the procedure. Unfortunately, a single missing tooth can cause you to lose up to 25% of your jaw's density within the first year, which will continue to deteriorate as time passes. Don't worry, you can still benefit from dental implants, even if you've experienced bone loss. Your dentist can create the strong foundation you need with bone grafting. 
A Strong Jaw is Important for Success
A dental implant is unique because it rebuilds the entire tooth structure. A titanium post is surgically placed into the jawbone to mimic a root. Your bone must fuse to the implant through a process called osseointegration for the procedure to be successful. After your bone has integrated with the post, an abutment is attached to connect a custom-made restoration. If your bone doesn't fuse to the post, the implant won't be stable enough to support the restoration. Ultimately, the dental implant will fail and need to be removed.
Not everyone interested in dental implants requires bone grafting, but it isn't uncommon. During your consultation for dental implants, your dentist will review a CT scan of your oral structures to look for any concerns below the surface, like bone loss. If your jaw is compromised, your dentist will recommend bone grafting before your placement surgery.
Strengthening Your Jaw with Bone Grafting
Your dentist will use a local numbing agent or a sedative to block any pain to keep you comfortable as your gum tissue is opened to gain access to your jaw. Bone taken from a donor or another area of your body is grafted onto your jaw. Your gum tissue will be sutured closed and the healing process will begin.
It can take several weeks for the graft to integrate with your bone; however, it's time well-spent to ensure the success of your investment. Your dentist will monitor your healing progression to determine the best time to move forward with your placement surgery.
Although you may not have expected to need an additional procedure, it's vital for rebuilding your smile with dental implants. When it's all said and done, your new smile can last for 30 years or more with the right care, like brushing or flossing. You'll enjoy the next best thing to your real teeth using a method that has over a 95% success rate.
About Dr. Hasan Yap
Dr. Yap earned his dental degree at the Universidad de Panamá and completed a 2-year residency at the University of Florida. He continued his education by 3 years in prosthodontics to treat the most complex cases of tooth loss. If you're interested in dental implants, contact our office today to request your consultation for a complete smile.