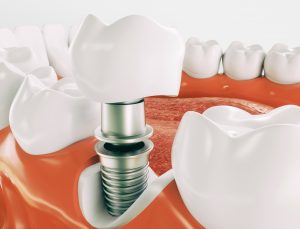 So you're thinking about getting dental implants to replace your missing teeth — you have an exciting journey ahead of you! They're the best way to regain a mouth full of gorgeous, functional pearly whites because they're so sturdy and long-lasting. But did you know that there is more than one type of implant? Let's take a quick look at the two different implant varieties and talk about which one might be right for you.
Endosteal Implants
Endosteal implants are the type that most people are talking about when they tout all the benefits of implants. These are small titanium posts or screws that your oral surgeon places within your jawbone. They take the place of natural tooth roots and function in a similar manner. In the months after they're inserted, they even bond with your body in a process known as osseointegration, creating the strongest base possible for your restored smile.
Perhaps the biggest perk of endosteal implants is that they stimulate blood flow to your jaw. This can help to prevent the bone loss that commonly occurs with missing teeth.
These implants are generally best for patients who have good bone density and bone height in their jaw.
Subperiosteal Implants
Like endosteal implants, the subperiosteal variety provides a strong base for your new teeth. However, they're different in that they get placed on the jawbone rather than in it. Your surgeon will make an incision on your jaw and place a custom lightweight metal framework on it. The gums will heal over the metal, leaving just a few posts above your gum, and your teeth in turn will get attached to those posts.
The selling point of subperiosteal implants is that they don't require the surgeon to drill into your jaw, making them a good choice for people whose jaw isn't strong enough to support endosteal implants. They're also often recommended for people who are unable to wear traditional dentures.
Which Is Right for You?
The best way to find out which type of implant is best is to schedule a consultation with an expert. They'll ask you questions about your oral and overall health and perform a thorough examination. Imaging scans will reveal the state of your jaw; if things look good in that area, it's likely that your implant dentist will recommend endosteal implants because of their bone-preserving power.
Even if your jaw is a little weak, it might still be possible for you to get endosteal implants if you are willing to undergo a bone graft.
Both endosteal and subperiosteal implants can restore your smile and help you get back to enjoying your life to the full. If you'd like to learn more about your options for tooth replacement, your dentist will be happy to help you!
About Our Practice
Dr. Robert L. Smith, one of the talented dentists in our practice, is a member of the International Congress of Oral Implantologists. He would be happy to answer any questions you have about replacing your missing teeth. Please contact our office at 954-564-7121.