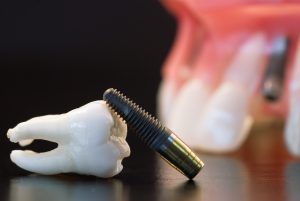 Many patients would like to replace their missing teeth with dental implants, but they're concerned about the cost of the treatment. Admittedly, the entire procedure can amount to thousands of dollars. Why determines the cost of dental implants? Is there any way to make the treatment more affordable? Are dental implants really worth it? Let's talk about these important questions.
The Cost of Dental Implants
Dental implant cost varies from patient to patient. A number of factors will influence your total bill, including:
How many implants you need, as well as the type of implants you receive
Whether you need to undergo preliminary work, such as bone grafts or extractions
The type of the restoration (crown, bridge, or denture) you receive
When you visit your dentist for an implant consultation, they will be able to provide you with an estimate of your treatment costs. They'll also help you explore options for fitting your new smile into your budget.
How to Afford Dental Implants
There are a number of ways in which you may be able to make dental implants more affordable:
Check with your insurance. More and more dental insurance companies are offering coverage for implants. Even some medical insurance plans will assist with the treatment.
Apply for financing. Low- or no-interest financing may help you break up the cost of the treatment into manageable monthly chunks.
Plan one step at a time. You don't have to pay for the entire implant process at once. Preliminary work, the placement procedure, and the restoration phase may take place several months apart, so you'll only have to plan to pay for one procedure at a time.
The one thing you shouldn't do when you're considering dental implants is purchase "bargain" treatment without looking at the fine print of the deal. While some practices may advertise low prices for implants, there is almost always a catch. You should only entrust your smile to a highly qualified implant dentist who will give you upfront, honest pricing information.
Are Dental Implants Really Worth It?
You should always feel free to talk to your dentist about alternative tooth replacement options, such as traditional dentures or a fixed bridge. They'll educate on about the pros and cons of each treatment so you can make an informed and confident decision about how to rebuild your smile. After giving the matter serious thought, many patients decide that dental implants are indeed worth the cost. This treatment offers outstanding longevity, stability, and oral health benefits that alternatives simply cannot deliver.
Would you like to replace your lost teeth with dental implants? Don't let concerns about cost hold you back from committing this to life-changing procedure.
About the Author
Dr. Robert L. Smith is an experienced implant dentist in Fort Lauderdale who has undergone advanced training at prestigious institutions, including the Misch International Implant Institute. He is also a member of the International Congress of Oral Implantologists. If you would like to talk to Dr. Smith and our team about using dental implants to replace your lost teeth, contact Island City Dental today at 954-564-7121.