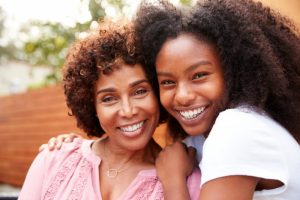 An unknown person once said, "Happiness is seeing your mother smile". After all, they deserve to smile after all they do to make the lives of their children happy and healthy! From expectant mamas to empty nesters, every stage of motherhood should be celebrated. What better way than to acknowledge the smile that makes everything better? Read on to learn dental tips for moms of all ages, as well as gift ideas to keep their smiles bright and healthy.
#1. Expecting & New Mothers
Dental Tip
While having a little one makes life special and full of love, it also makes getting a good night's sleep difficult! A mother's top priority becomes their child, so it can be easy to not take care of their overall well-being, including their oral health. Without enough rest, their body has a tougher time keeping bones and tissues healthy, which can eventually weaken teeth and gums. For example, mild to moderate gum disease is common for women who are pregnant. Getting enough calcium and magnesium is vital during this period of motherhood. Calcium keeps the bones strong, and magnesium helps to transport it throughout the body.
Gift Ideas
A high-quality sleep mask will help the expectant or new mom in your life to get some much-needed rest. You can also give a care basket filled with self-care products. Include bath salts infused with magnesium to help them to relax and get some nutrients!
#2. Mothers with Growing Children
Dental Tip
Life can get incredibly hectic when you have growing children. A mom's day is nonstop with all the ways she cares for her little ones, like fixing meals, traveling to activities, and helping with schoolwork. This can lead to neglecting in paying attention to the health of their smile. A helpful way to make caring for a mom's teeth and gums is to make it a family affair! They can use dental apps, like BrushDJ, to make an oral health routine engaging and fun. They also can give a mother one less thing to remember by providing helpful reminders to replace toothbrushes or schedule checkups.
Gift Ideas
A small, fancy travel case filled with a mini-toothbrush and floss will help them care for their smile when they are on the go. Additionally, a Bluetooth shower speaker can get them in a relaxed mood as they maintain their dental routine.
#3. Empty Nester Mothers & Grandmothers
Dental Tip
Women's hormones begin to change as the years go by. These changes can eventually impact their oral health, such as bone loss in the jaw. Fortunately, there are things they can do to prevent any significant changes to their smile. Eating plenty of nutrient-dense foods and exercising regularly can keep their teeth, gums, and jaw strong and healthy.
Gift Ideas
An electric toothbrush can make it easier and more convenient to stay on top of daily brushing. You can even give the special older mother in your life an upgraded iPhone or tablet so they can use various apps to track their health, hormones, and dental health.
Every mother deserves a healthy and vibrant smile, no matter what stage of motherhood they are in! With these helpful tips and gift ideas, you can do your part to celebrate how much their smile has meant to you.
About the Author
Dr. Hasan Yap and his team at Island City Dental are eager to help keep the smiles of every mother beautiful and healthy! He earned his Doctor of Dental Surgery from the Universidad de Panama and served as Chief Resident at NOVA Southeastern University. With over two decades of experience, Dr. Yap provides a full range of high-quality dentistry, including preventive, restorative, and cosmetic care. To schedule an appointment, contact him through his website or call (954) 564-7121.