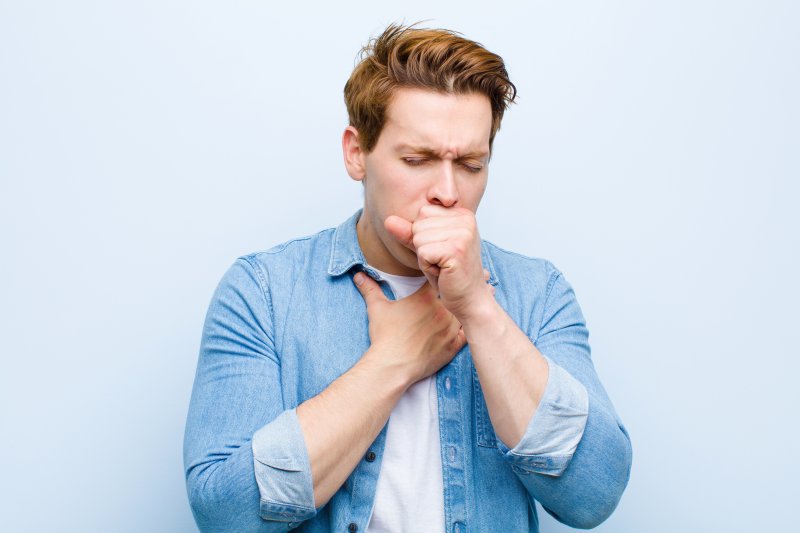 There's nothing worse than waking up in the middle of the night with a bad cough. It hurts, it's uncomfortable, and it distracts you from living your life. One of the first things that most do in this situation is reach for a bottle of liquid cough medicine. With the advent of the COVID-19 pandemic, not to mention the persistence of the seasonal flu, more people may be taking this route. However, liquid cough medicine may have consequences on your oral health.
Risks of Liquid Cough Medicine
While the liquid cough medicine can help you to manage your symptoms, some of its ingredients can adversely affect your teeth and overall health.
Many cough medicines use sugar and flavorings to make them more palatable. Unfortunately, too much sugar can be dangerous for your teeth. Sugar attracts bacteria and can ultimately lead to the breakdown of tooth enamel which in turn leaves you vulnerable to cavities, tooth decay, and tooth pain.
The alcohol in cough medicine, albeit minimal, can still impact the mouth. Alcohol is known to produce dry mouth. Saliva helps to protect the mouth from acids and harmful bacteria. When your mouth is not able to produce the necessary amount of saliva, it leaves you open to developing periodontal disease and tooth decay.
While getting rid of your cough is the first priority, these may not be risks that you want to take.
What Are My Alternatives?
Instead of opting for liquid cough medicine by itself, choose instead to seek out an alternative medicine or to take the medicine in a different way.
You could opt for cough medicine in pill form. This would give you the same results while avoiding the sugar and alcohol that are intrinsic to its liquid cousins.
If you still insist on taking liquid cough medicine:
Brush Your Teeth: Brushing your teeth after taking the medicine can help to significantly reduce the amount of remaining sugar in your mouth. If you plan on taking the medicine before bed, make sure to take it BEFORE you brush your teeth.
Pair It with Food: When we eat, we produce more saliva than usual. Since the alcohol in liquid cough medicine can potentially lead to dry mouth, the excess saliva from chewing can help to mitigate some of the effects of the alcohol.
Nobody wants to get sick. The most important thing is to get yourself back to full health. With these tips, you can help minimize the effects of your coughing while maintaining your oral health to the fullest.
About the Author
Dr. Hasan Yap has decades of experience under his belt. His greatest pride is keeping his patients safe, healthy, and smiling. He has done extensive continuing education to be able to guide patients to their best health. As a prosthodontist, his research has helped to advance one of the most exciting dental achievements, the All-on-Four protocol. He understands that these are difficult times and wants each and every one of his patients to be their healthiest. To learn more tips to maintain your oral health, contact him or call Island City Dental at (954) 564-7121.