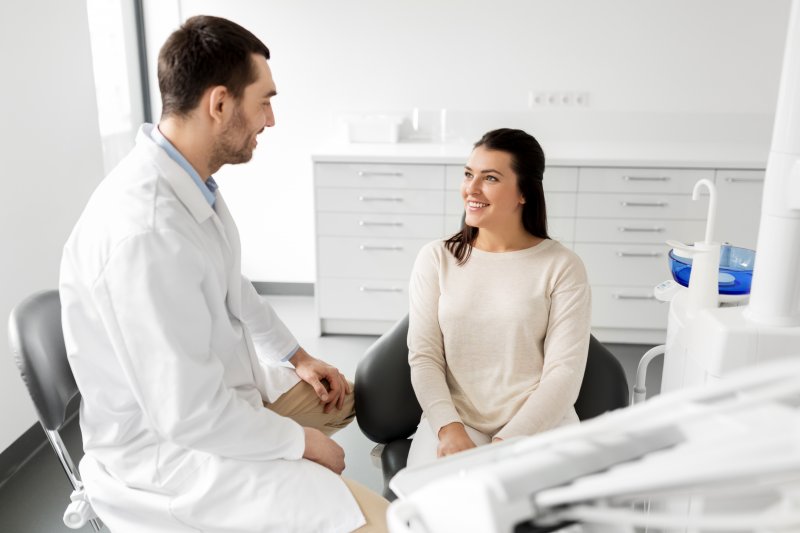 Cosmetic dentistry describes a section of the dental health field that focuses on correcting aesthetic smile issues, such as stains, chips, cracks, gaps, alignment issues, and misshapen teeth. Many people undergo cosmetic dental treatments as a way of improving their confidence in their smiles. Though these treatments can be beneficial to how your pearly whites look, do they hurt? Read on to learn if cosmetic dentistry hurts as well as what to expect from some popular treatments.
Cosmetic Dentistry: Does It Hurt?
Thanks to advancements in the dental health field, cosmetic dentistry is much more effective than it used to be as well as virtually pain-free. For those who experience feelings of anxiousness revolving around the dentist, sedation dentistry may be the best option to keep them calm and comfortable throughout treatment. It's also beneficial for those with sensitive gag reflexes or teeth, people who aren't comfortable reclining in the dental chair for a long time, and those who do not respond well to local anesthetics.
Cosmetic dentists also use modern techniques and technology to keep treatments from being painful. This makes it easier for them to administer customizable, precise, and minimally invasive treatments that leave patients with the smiles they've always dreamed of.
What to Expect from Cosmetic Treatment
Now that you know that cosmetic dentistry shouldn't be painful, what can you expect from specific treatments? Here are a few popular ones:
Teeth whitening – Professional-grade bleaching products are applied to the teeth to lift stains from your smile. With the supervision of a professional, this treatment shouldn't cause any discomfort outside of a bit of mild sensitivity afterward.
Porcelain veneers – These thin porcelain shells require the removal of a small amount of enamel. They can fix small gaps, chips, cracks, misshapen teeth, alignment problems, and discoloration. Over-the-counter pain medicine can help relieve discomfort or increase sensitivity.
Invisalign – The patient wears a series of clear plastic aligners over a period of several months or years to move their teeth into a more ideal position. Pain medicine can help relieve discomfort when you switch to a new set of trays.
Gum recontouring – Excess gum tissue is removed to expose more of the tooth structure and make your smile appear more uniform.
Cosmetic dental bonding – A composite material is placed on the teeth to fix the same issues as porcelain veneers. This procedure doesn't last as long as veneers but is much cheaper. It should be completely painless.
Metal-free restorations – Metal-free dental restorations are made from porcelain. They resemble real enamel and cover the entire visible part of a tooth to repair the damage, allow it to function properly, and improve the way it looks.
With sedation and modern technology, cosmetic dentistry should be virtually pain-free. Contact your dentist if you're interested in improving your smile so you can be on your way to a beautiful beam!
About the Practice
Island City Dental offers people who live in the Wilton Manors area a range of cosmetic treatments that improve the look of their pearly whites. From smile whitening to correcting chips and cracks, your smile will be looking better than ever in no time! Call Island City Dental's office at (954) 564-7121 or visit their website to learn more about cosmetic dentistry or to schedule an appointment with their friendly, compassionate dental team.