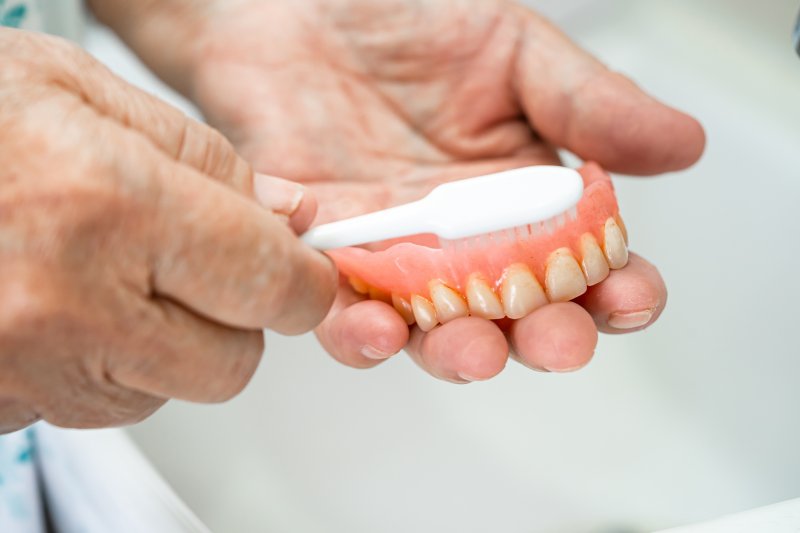 Now that you've replaced your missing teeth with dentures, you can enjoy the many benefits of a fully restored smile! You'll be able to eat your favorite meals and flash your pearly whites with no worries. And you'll only have to keep a proper dental hygiene to preserve them. However, is it possible to brush them while wearing them? Read on to learn the proper way for cleaning dentures!
Can You Clean Dentures While Wearing Them?
To maintain healthy and strong dentures, it's essential that you clean all surfaces. You can scrub away at your teeth by simply using a soft-bristled toothbrush, but you'll also need to polish the underside. Since your dentures are fitted to your gums and can be removed, it's possible for plaque to buildup underneath your restorations. This can be difficult to address while having them in your mouth.
It'll also be important to clean your gums, as leaving food debris and plaque to collect there can harm your oral health as well as your dentures. In most cases, you'll be better off removing them so that you can provide a thorough cleaning.
How To Properly Clean Dentures
The majority of your dental hygiene will consist of taking off your dentures to brush them and your mouth. Additionally, you'll likely have to visit your dentist for regular checkups, that way they can ensure your restorations remain in good condition. However, there are several tips that can make it simpler to preserve them:
To avoid damaging them in case they're dropped during cleaning, hold them over a soft towel or a basin filled with water.
Soak your dentures in a dilution of one-part vinegar to four-parts water so that it removes any tartar buildup.
Take them off and leave them in a glass of water or denture solution before you sleep, keeping them moist and clean overnight.
In the morning and evening, be sure to brush your teeth, gums, tongue, and the roof of your mouth.
By practicing these few tips, you'll be able to maintain a clean and fresh oral health for your dentures! But if you experience any issues along the way, you can always consult your dentist for the best help.
About the Author
Dr. Robert Smith is a proud member of the Florida and American Dental Associations. He received his dental doctorate from the Emory University in Atlanta, and continues to pursue additional training to improve his expertise. He provides numerous advanced dental treatments, including dentures, to help you achieve the smile you deserve. If you want to know more about how to clean dentures, visit his website or call him at 954-564-7121.