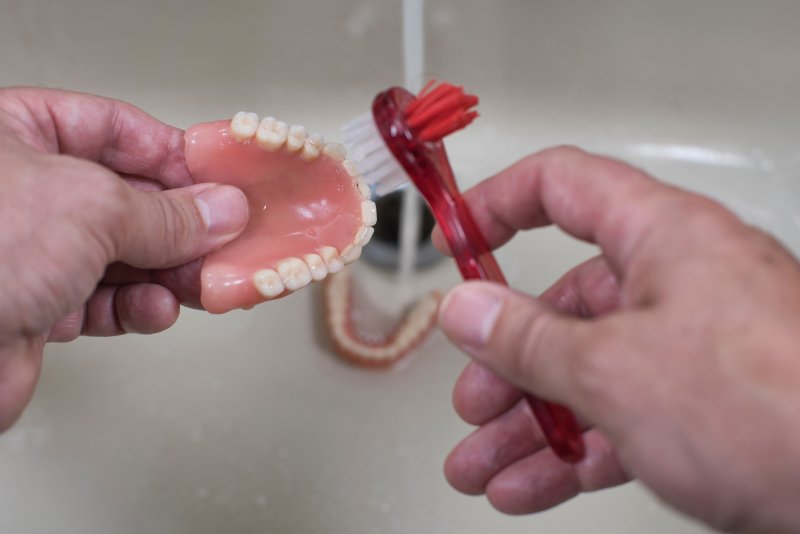 Whether you lost teeth due to decay, injury, or for some other reason, it's important to have them replaced so you can continue to eat, smile, and speak properly. As a common replacement option, dentures are an excellent way to fill in your smile and regain some of your bite power. Caring for dentures the right way is key to avoiding oral health issues and making sure they continue to function as intended. Read on to learn about four helpful tips that will make it easier for you to take care of your restorations.
#1. Brush Your Dentures Every Day
Your dentures need to be brushed every evening to remove plaque, bacteria, and food particles. Use non-abrasive toothpaste and a soft-bristled toothbrush to thoroughly scrub away leftover gunk so that they continue to look their best. This will also prevent oral health issues like gum disease from developing.
#2. Soak Your Dentures Overnight
Wearing your dentures all day can make your gums feel a bit sore, so make sure to take your restorations off at night to give them a break. Place your dentures into a denture cleaning solution or a glass of fresh water overnight to kill any leftover bacteria and help them preserve their shape. Rinse your dentures off before you put them back on in the morning to make sure no cleaning solution gets into your mouth and irritates the sensitive tissues.
#3. Handle Your Dentures with Care
Dentures are durable, but they aren't immune to cracks, breaks, and other forms of damage. Though your dentist should be able to have them replaced if need be, it can take several weeks and may be expensive. Wash your dentures over a soft, clean, folded towel or a sink filled with water to keep them from breaking if they fall. Additionally, use a special carrying case or soft towel to transport your restorations so they're less likely to get damaged.
#4. Schedule Regular Dental Checkups
If you have full dentures, you may think that having no teeth left means visits to the dentist are unnecessary. Regardless of how many remaining natural teeth you have, seeing your dentist every six months is key to ensuring that your restorations remain in good shape. These visits will give you a chance to bring up any issues or concerns you've encountered in relation to your restorations so your dentist can examine them and make adjustments if needed. They will also analyze your gums, jaw, and other parts of your face and neck. This will allow your dentist to determine if any other concerning oral health issues are developing so they can work with you to create a treatment plan.
Though these restorations are a great way to improve the look of your smile, caring for dentures is key to making sure they continue to look their best. Make sure to take the time to follow all four of the above tips so you can enjoy a healthy, happy smile for years to come!
About the Author
Island City Dental offers tooth replacement options like dentures to complete your smile and allow you to regain your confidence in your pearly whites. These durable restorations can take some getting used to, so they can also teach you about the importance of caring for dentures and show you the proper way to clean them. Call Island City Dental at (954) 564-7121 or visit their website for more information on dentures or to set up an appointment.