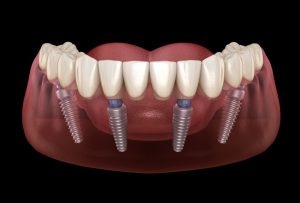 When you leave missing teeth unreplaced, it doesn't just impact your self-confidence, it also affects your oral health—all the more reason to get them replaced. With so many restorative options out there though, how do you know which one is best for you? No matter what option you choose, leaving a gap in your smile can be uncomfortable and affect your quality of life. All-on-4 implant dentures can provide you with a laundry list of benefits in addition to a natural-looking and functioning restorative solution. Read on to learn if you're a candidate for this procedure and how it can impact your day-to-day life. 
What Causes Adult Tooth Loss?
If you're suffering from missing teeth, you're not alone. According to the American College of Prosthodontists, over 36 million Americans are missing all of their teeth, and 120 million are missing at least one tooth. This can be caused by a variety of reasons such as:
Poor oral hygiene
Dental decay
Emergencies and trauma
Oral cancer
Gum disease
Medical conditions
These are only a few reasons that an adult may suffer from tooth loss. Gaps in your mouth can make it hard to do basic functions like speak and chew. When left untreated, it could cause several other health issues, so it's best to get treatment before additional problems crop up.
Who's A Candidate For All-On-4?
The best way to determine if you're a candidate for All-on-4 implant dentures is to schedule a consultation with your dentist. This is also a great time to ask any questions you may have about the procedure and determine if it will accomplish the goals you'd like. Ideal candidates typically:
Have maintained good oral health.
Don't have bad oral habits such as smoking.
Aren't taking medications that could increase the risk of implant failure and infection.
Are in good overall health for the surgery.
Having oral health problems could result in an increased risk of infection, causing your dental implants to not properly fuse with your jaw. If you have gum disease or have had it, it's important to consult with your dentist about treatment and whether that would put your implants at risk.
What Are The Benefits Of All-On-4 Dental Implants?
If you're a candidate for implants, you're probably wondering what makes them so special. There's a reason they come so highly recommended. You can benefit from All-on-4 if you're:
Looking to replace your ill-fitting dentures.
Looking for a cost-effective implant procedure.
Projecting to lose all of your teeth at once.
Don't want to wait a long time to get your replacement teeth.
Wanting quality results in one day.
This process typically takes a single visit, where your dentist will remove remaining teeth and replace your entire arch with 4 implants. This is a great option for patients who don't want to undergo the long procedure of dental implants or who need a bone graft. The longer you leave missing teeth unreplaced, the more likely you are to develop oral health problems, so it's best not to put it off!
About the Author
Dr. Robert Smith takes pride in the fact that he has been taking care of some of his patients for over 3 decades. He strives to give his patients reliable treatment and enjoys getting to know them to better understand how he can help. He frequently takes continuing education courses on implant dentistry, soft tissue and bone grafting, and advanced restorative care. For questions or to schedule a consultation to find out if you're a candidate for All-on-4 implant dentures, visit his website or contact 954-564-7121.