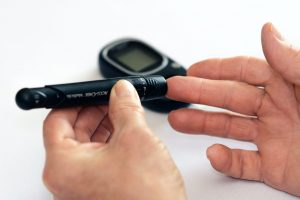 Dental implants are the most reliable solution to treat tooth loss. They are unlike any other treatment because they replicate both the roots and crowns. Most patients with good oral and general health are candidates for the procedure; however, certain underlying medical conditions can complicate the treatment, like diabetes. Don't worry, here's how you can replace your missing teeth safely, even if you're a diabetic. 
What is a Dental Implant?
A dental implant is the only treatment to replace the entire structure of a tooth. A titanium post is surgically placed into the jawbone to mimic a root. Your bone must fuse to the post through a process called osseointegration. After your bone has healed, an abutment is attached to the post to connect your restoration. A dental implant has over a 95% success rate and can last for 30 years or longer with the right care.
Are Dental Implants Safe for Diabetics?
Although dental implant failure is rare, it's often caused by poor osseointegration or a preventable infection called peri-implantitis. Since diabetes can affect your ability to heal and fight infections, diabetics can have an increased risk of complications if the condition isn't well-controlled.
Whether you want to replace a single tooth or an entire arch with dental implants, you must have a strong jawbone and healthy gums before rebuilding your smile. Your dentist will examine your mouth and review diagnostic images to create a personalized plan. While you may need a few additional steps in your treatment, like bone grafting or periodontal therapy, they are necessary to ensure the success of your new smile.
You can keep peri-implantitis at bay to safeguard your investment with a good oral hygiene routine at home. Brush, floss, and use a daily mouthwash to reduce oral bacteria. It's best to break any bad habits that can increase your risk of infections, like drinking alcohol or smoking. Controlling your diabetes is equally important as your oral hygiene routine. If infection occurs, it can be more difficult to treat.
Besides managing your diabetes, don't forget to visit your dentist every 6 months for a cleaning and checkup. They'll keep your mouth clean and healthy while monitoring your dental implants for any changes to intervene quickly if they find a problem, like gum inflammation. If you develop any signs of implant failure in between appointments, don't wait to contact your dentist, which can include:
Red, swollen, or bleeding gums
Pain near the implant
Implant feels loose
Your dentist can pinpoint the problem to save your smile. Don't let diabetes stand in your way of enjoying the next best thing to your real teeth.
About Dr. Hasan Yap
Dr. Yap achieved his dental degree from the Universidad de Panama and completed a 2-year advanced education program in general dentistry at the University of Florida. He has also earned his certification in prosthodontics. Dr. Yap can treat the most complex cases of tooth loss. If you're ready to replace your missing teeth, contact our office today to request your consultation.