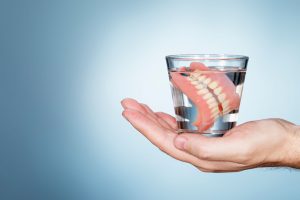 Dentures are a standard solution for replacing lost teeth so that you can live your life with the same full, healthy smile as you did before. That said, it's important to recognize that your dentures will last longer and serve you best if you care for them properly. There are a few common bad habits you might be tempted to fall into that could be detrimental to your dentures and oral health. Read on to learn about a few things to avoid to ensure you get the most out of your dentures.
Not Brushing or Flossing
Whether or not poor dental hygiene influenced your tooth loss to begin with, it is imperative to build and maintain a healthy brushing and flossing routine to keep your dentures clean. Though dentures are not at risk of decay like your natural teeth, plaque can build up on them and lead to bad breath, not to mention permanent damage to your gums and jaw. Remember that some toothpastes and toothbrushes might be abrasive so use the right products when cleaning, like a gentle-bristled brush.
Nail Biting
Your dentures are a fantastic replacement for the teeth you lost, but unfortunately are not quite as strong as tooth enamel. This means that some behaviors you might have developed, like nail biting, are especially harmful with dentures. Biting or chewing hard objects can chip or damage your dentures. This can impact how well they function and fit in your mouth, or can leave space for germs to gather and grow. Steer clear of chewing hard objects like nails or pen caps that can scratch or damage them.
Chewing Gum
While chewing gum in and of itself is not necessarily always considered bad, it poses certain risks to those who do it with dentures. Sticky materials like gum or taffy can affix to your dentures and dislodge them. This can damage them and cause difficulty speaking if they get gummed together. Even sugar-free or denture-safe gum can be bad news for your smile. Instead, try mints or mouthwash to keep your breath fresh.
Letting Your Dentures Dry Out
There are going to be times you might want to take your dentures out to give your mouth a respite, and removing them daily for cleanings is even recommended. Remember, though, that if your dentures dry out they can warp or crack so they no longer function as intended when you put them in your mouth. To maintain the proper shape and elasticity of your dentures, be sure to wear them each day.
Repairing Dentures Yourself
If something should happen to your dentures, you may think it's simpler to try to glue or repair them yourself instead of dealing with another dental visit. However, that can cause much more trouble than you may think! Using store-bought glue on your dentures and placing them in your mouth can cause you to get sick, and they may break again as your wear them, causing even more damage. Your dentist has the materials and knowledge to properly make any repairs or adjustments needed.
Skipping Dentist Visits
Even if your dentures are in good shape, it is important to continue to have regular checkups with your dentist. This can ensure that any issues are detected and addressed early on before they become major problems.
Following these tips can help you keep away from some common bad habits that could impact your dentures, ensuring that you get the most benefit from them for a happy, healthy smile.
About the Author
Island City Dental takes pride in providing excellent dental care that gives peace of mind to patients. Dr. Hassan Yap and Dr. Robert Smith have decades of experience between them to ensure each patient receives the best solution for their oral healthcare needs. If you have damaged dentures and would like some help, feel free to contact the office on the website or by calling (954) 564-7121.