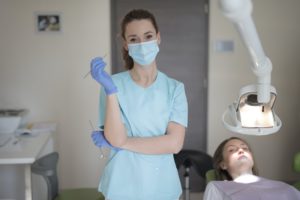 After weeks of social distancing, businesses across the community are reopening their doors to the public, including your trusted dental team. At Island City Dental, we understand you might have some apprehensions about your safety when coming into our office for your routine cleaning and checkup. We understand your concerns. We're committed to keeping our patients and our team safe. As a result, we've implemented new protocols to prevent spreading COVID-19. Here are 4 things you can expect when coming back to our office.
1. Virtual Waiting Room
Social distancing is key to prevent transmitting coronavirus. Not only do you protect yourself from the virus, but others as well. Even if you're not showing symptoms, you can still pass the virus. As a result, we are making it easy for our patients to keep their distance from one another with our virtual waiting room. Upon arriving to our office, please remain in your car and call our office to check-in.
2. Patient Questionnaire
Our team undergoes a daily health check to look for a fever or any symptoms. In addition, each patient will also need to fill out a brief questionnaire and have a temperature check before entering our office. Don't worry, the questions are simple and can include:
Have you had a fever in the last 14-21 days?
Are you experiencing shortness of breath or other breathing difficulties?
Do you have a cough?
Do you have any flu-like symptoms?
Have you been in contact with anyone who tested positive for COVID-19?
3. Escort to the Operatory
A member of our team will welcome you to the office; however, we will not be shaking hands or giving out hugs to maintain our distance. We will escort you back to operatory, which has previously been cleaned and disinfected before your arrival.
4. Personal Protection In-Office
We know masks and gloves and masks are important for personal protection. Our team will wear masks and gloves while in the office. We know your safety is equally important, which is why our patients can wear masks in the building; however, we will ask you to remove your gloves to prevent cross-contamination in the office.
It's Safe to Visit Your Dentist
While we live in uncertain times, it is safe to visit your dentist again. While dental offices are already some of the cleanest places, we've upgraded our protocols to keep you and our team healthy, so there's nothing to fear when coming in for your routine cleaning and checkup.
About Island City Dental
Island City Dental is committed to more than just beautiful smiles. We also strive to ensure peace of mind. We've changed several aspects of care to ensure our patients stay healthy. If you have any questions about our safety protocols, contact our office today to speak with a member of our team.