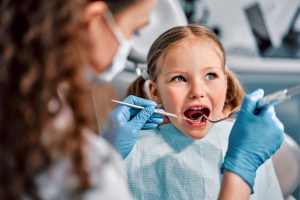 Preparations for back to school are underway and there's a lot to do! If you're a parent, you're probably busy with back-to-school shopping, registering your child for activities, and making sure they have their physical completed. In the hustle and bustle, it's easy for things to fall through the cracks. Don't let your child's oral health be one of them! A visit to the dentist should also be a priority. They can provide your child with appropriate preventative care to start the year off right. With that in mind, here are 3 helpful tips to help ace your next dental exam!
Tip #1: Keep a Consistent Dental Care Routine
Consistent dental care habits will help you and your child breeze right through that next visit. When your pearly whites are already in good condition, your dentist doesn't have to work as hard to keep them clean. Your regular routine should include:
Brushing twice daily for 2 minutes at a time.
Flossing twice daily.
Attending dental checkups and cleanings.
It's tempting to skip checkups once the school year ramps up and work gets busier. You can ensure you don't miss any by setting reminders on your phone or calendar. If you're tech-savvy, save your appointments on your phone!
Tip #2: Eat A Balanced Diet
Highly sugary foods attract bacteria that can eventually erode the enamel of your teeth. Skip the sweet treats! Instead, eat a varied diet that includes the vitamins and minerals your mouth needs to stay in optimal condition. By avoiding items on the menu with high sugar content, you're doing your teeth (and your dentist!) a favor.
Also, drink plenty of water! It rinses your mouth of food particles and germs that can grow into plaque or gum disease. Plus, it never hurts to stay hydrated.
Tip #3: Chew Sugar-Free Gum
Chewing sugar-free gum for half an hour after eating can contribute to your oral well-being in more ways than one. It helps to:
Generate saliva, which is our mouth's natural defense against acid erosion.
Clear food out. Unwanted food particles left behind can be pulled away from your teeth and then spit out with the gum.
Reverse damage. Many brands of sugar-free gum contain Xylitol which can reduce tooth decay and replace minerals in your enamel.
These are all easy ways you can contribute to your own dental health. Now when you see your dentist, you'll pass their exam with flying colors!
About the Practice
At Island City Dental, you can expect a relaxed, refreshing atmosphere. We take pride in providing patients with a concierge-level experience backed by a research-based approach to oral care. With several decades of experience between them, our dentists are experts in not only general dentistry but also prosthodontics (restorative implants). That means that whatever the state of your smile, they can help keep your teeth and gums in pristine condition. If you'd like to schedule an exam, please feel free to contact us on the website or by calling (954) 564-7121.