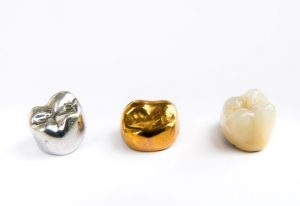 Dental crowns are a time-tested solution to the problem of distressed teeth. Properly placed crowns can last 10 years or longer, depending on the patient's self-care habits. Signs that a dental crown may be failing include changes in your bite and discomfort beneath the gum line.
What a Dental Crown Does
Each of your teeth consists of two parts: the section above the gum line, known as the crown, and the selection below the gum line, known as the base. When cavity-causing bacteria attack the tooth, they normally start with the crown and work their way down into the base and roots.
This means that, in many cases, the base of the tooth can be saved. To accomplish this, your dentist may recommend a crown. This is a restoration that sits atop the base and protects it from infection and physical damage.
To place a crown, your dentist will first gently shape and file the tooth to create a good fit between it and the restoration. Sometimes a root canal is performed as well. Once the tooth is ready, the crown is fitted and held in place by a special dental adhesive.
Dental crowns are traditionally made of metal alloys such as gold, although tooth -colored ceramics are increasingly popular these days. Your dentist will discuss your options with you at the time of treatment.
After the crown is fitted, how long it will last depends to a large degree on the patient's self-care habits. Regular brushing and flossing, eating a tooth-friendly diet, staying away from tobacco, and seeing the dentist for regular cleanings and checkups are all important steps. Otherwise you may experience premature crown failure.
Signs That Your Crown May Be Failing
Typical signs that a crown is failing include:
A space opening up between the restoration and the gum line. This indicates that the gums are receding from the tooth.
A change in your bite, especially in the area around the crown. This is usually a sign that the crown itself is worn or cracked.
Discomfort beneath the crown. This indicates that infection may have reached the base of the tooth.
The crown itself becoming loose or falling out. This can be caused by blunt force trauma or tooth decay beneath the crown.
Make an appointment to see your dentist right away if you notice any of these problems. It's usually possible to replace dental crowns that are beginning to fail.
If damage to the base of the tooth is extensive, then your dentist may recommend a different treatment approach altogether, such as a bridge or implant.
Why Tooth Extraction Is Never the Best Approach
It's usually best to avoid extracting a tooth unless no other alternative is available. Your teeth are designed to work as a single unit. When one is missing, those around it are subjected to lateral stresses that can cause them to fail. Also, the gap left behind after an extraction can create a hiding place for harmful bacteria.
A dental crown is a trusted, effective way to correct many dental problems. Talk to your dentist about this and other treatment options during your upcoming appointment. We wish you lots of happy smiles throughout 2019 and beyond.
About the Author
Dr. Hasan Yap is a skilled dentist and dental surgeon whose area of expertise includes crowns and other forms of restoration. You can reach his office online or by calling (954) 564-7121.